The Blogathon Bash is ON!
It's finally here! The Biannual Blogathon Bash has officially started but you can jump in as soon as you are ready.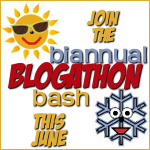 I will be basically blogging all weekend but not everyone can or wants to commit to that much. Blog when you can, take a break when you need to. Make sure you stay up to date with this blog to see what's new. If you have trouble finding an important post, check the top left sidebar where they will be linked.
Kick Off Post
To start off, you need to do a kick off post on your blog. It's basically just to tell your readers that you are participating in the blogathon and what you hope to accomplish and/or how much time you plan to devote. It's okay if you don't know for sure, it's just what you plan/hope for. Feel free to mention what else you are doing this weekend including conferences, other challenges or family commitments. Let your readers know it is NOT too late to join in and include the event button please. If you tweet your post, include the #blogathon2 hashtag.
Here's the important part! Make sure you LINK UP your post below in the linky. (bottom of post) If you have some time when you need to take a little break from your work, visit your fellow blogathoners and leave them comments on their kick off posts.
Making Sure You Are Eligible for Prizes
Then you'll need to head over the Prize List, read how it works and what's available. Then go here to officially enter for prizes. Be sure to go back and enter again when you've done more "entries."
Mini Challenges
Check the list of mini challenges and plan out what ones interest you and when you want to tackle them. A link to the mini challenge list is in the important links in the top left sidebar for ease of access.
Other Reminders
Any tweets you do about the blogathon, please include the #blogathon2 hashtag.
If you want to keep up with us on twitter, use your favourite program or tweetchat or tweetgrid to see what's hopping.
Make sure you RSVP for the twitter parties
Sign up for Rocks and Roses if you want to before June 24 11:59 PM EST
Take breaks! Watch your posture and take frequent breaks so you don't get any work related injuries like eye strain, back ache, head ache or carpal tunnel.
A winner will be chosen for the Participant Giveaway sometime today, so watch for that!
You can ask questions or request comment love on shares on posts you do in the facebook group and on twitter. You can also email me questions at callista83@cogeco.ca I will be around most of the time. I put a schedule of when I'm planning to be out in the right sidebar.
Have Fun!
Link Up Here