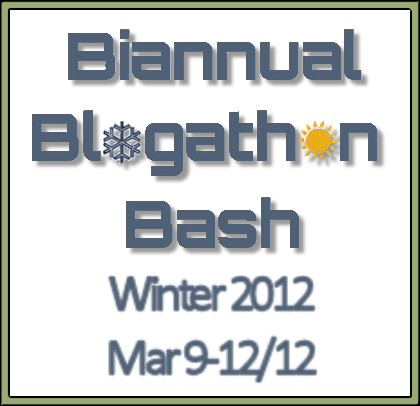 It's time! It's here! The Biannual Blogathon Bash has started! 
Make a post on your blog with the button (see sidebar) stating that you are participating this weekend, how much time you hope to spend blogging and a list of some of the things you want to accomplish! Then come back and link it up in the list at the end of the post. If you need a break from your tasks during the weekend, come here to comment on the other participants posts, let's show each other some support!
A few notes:
Keep track of how much blogging time you clock. I suggest a pad of paper and pen next to the computer. Mark the start time when you start and the end time when you get up to do something else. The person who logs the most active blogging time will get an extra entry to win prizes. (Plus it's fun to see how much you did.) By blogging I mean anything related to working on your blog, social media accounts or email.
Don't forget to take breaks, especially if you're aiming for major blogging time. It's recommended that you take a 15 minute break every hour when working at a computer but since it's a blogathon, I don't expect that would happen. But if your eyes are going buggy or your butt is numb or you just can't think straight, it's time for a break.
If you're on twitter, please tweet any of your posts made during the blogathon (kick off posts and anything else you post like reviews, features, giveaways, anything.) Use the #blogathon2 hash tag. 
To follow the tweets, call up tweet chat with this link. If you want to tweet right from there, just sign in. Please consider retweeting some of them or replying to some to support each other.
Take some time to check out the prize list to see what's available. All winners will be chosen at the end of the event and the order you win in will determine what order you get to pick your prize. Since we are all excited to hear if we won, I need you to respond right away when you are notified you've won with what prize you want so I can cross it off the list and email the next person.
Check out the list of mini challenges which will fill out throughout the day. The more you do, the more chances to win prizes you have. I am not eligible for prizes of course but I may do some of the mini challenges. 
How Prizes Will Work:
Everyone gets one entry for linking up their kick-off post. You MUST do this to be eligible to win a prize.  For every mini challenge you do, you will get another entry. You will get another entry for linking up to the End Post at the end of the event (must be linked up by March 12 3pm). Person who blogged for the longest will get another entry. I will type these entries up into a spreadsheet and use random.org to pull winners.
If you have any questions, email me at callista83@cogeco.ca, comment below, tweet me at @blogathon2 or comment in FB group. Email is best.
There will be another post update Saturday morning, keep your eye out for that.
Link Up Your Kick-Off Posts Here:
Put your BLOG'S NAME in name field.
Put your POST URL in the url field. (to the actual post, not the main blog)
Don't know how? Usually you can right click on post title and copy link or click on title and when it loads, copy url from the address bar.
Continue Reading